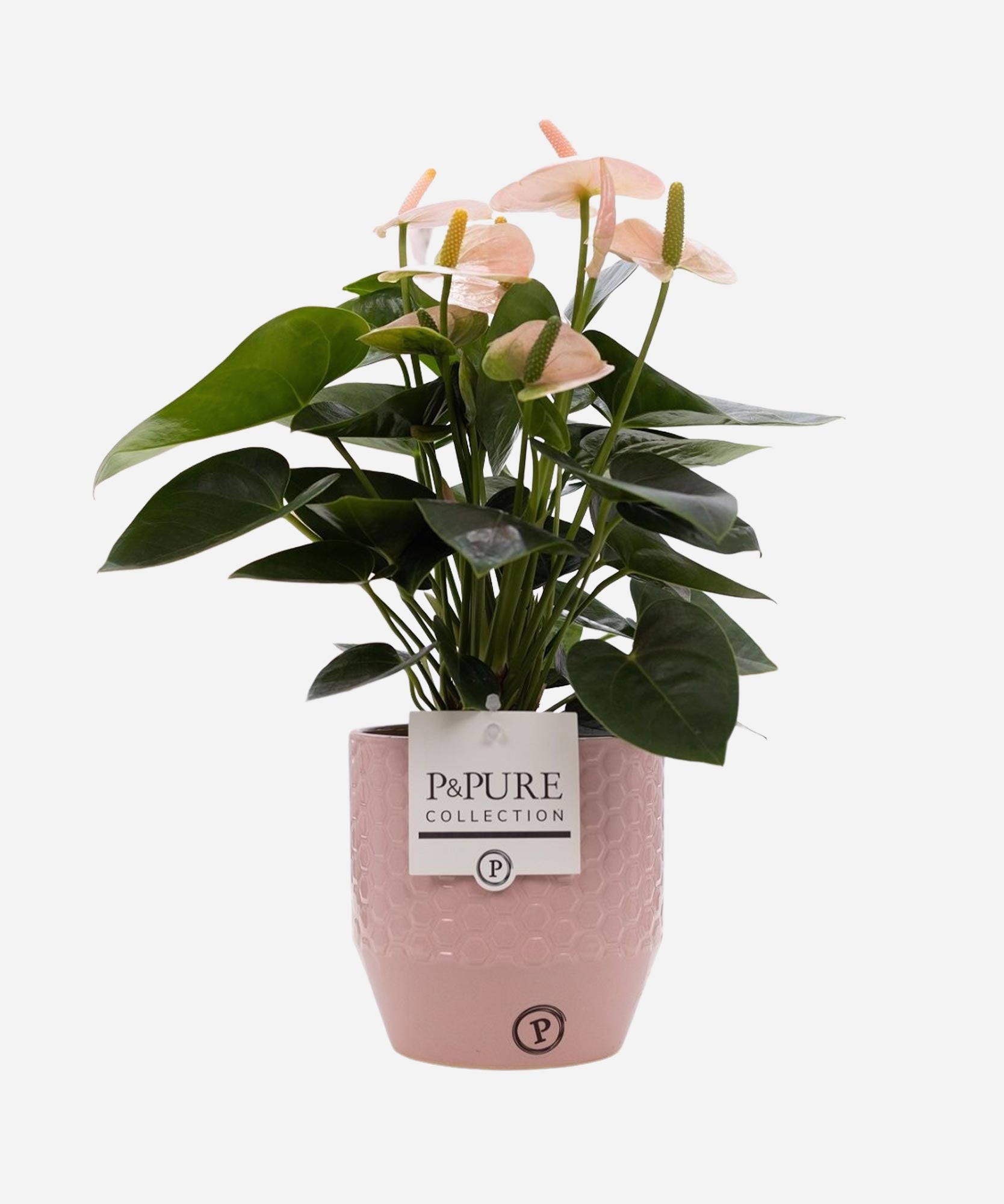 A1 Quality, the best available
Free personalised gift card message
Delivered on your chosen date
About
How will my order arrive?
Maintenance
Our plants are delivered anywhere in the UK with a personal gift message. 
Make a lasting impression with this luxurious potted anthurium plant in a beautiful pink hue. A perfect living gift that adds an elegant touch to any home, this luscious plant will bring a vibrant splash of colour and style to its recipient's space. A gift of exquisite taste.
Your plant will include the pot and come with a free personalised gift note, delivered to the doorstep in recyclable packaging, on the day of your choice.
• Anthuriums are very easy to care for.
• The plant needs a light position, but not in direct sunlight.
• A room temperature of 18-22 °C is fine – the plant may not get too cold.
• Water the plant regularly, ensuring that the water is not too cold. The soil should not be allowed to dry out, but too much water is not good either.
• The plant likes it if you regularly spray the leaves with tepid water.
• Plant food will ensure that the plant continues to flower profusely for a long time and continues to produces new buds. Feed the plant once every three weeks, in the correct concentration as specified on the packaging.
• It is a good idea to remove spent flowers.
• To keep the plant flowering for a number of years, it must have a rest period during the winter. Place the plant in a light spot at a temperature of 15 °C for around six weeks, after which it will reward you with profuse flowering.
• In the summer when the temperature no longer falls below 12 °C the plant can also be placed in the garden or on the patio.
• Anthurium will continue to thrive for between 4 and 26 weeks (depending on country of sale, shipping and storage time, ripeness, freshness, the provision of plant food and conditions at the consumer).
• The plant is purely decorative and not suitable for consumption.
Our Promise
We go the extra mile
All orders are covered by our guarantee. This means that if your order is not perfect, after sending us a quick photo, we will go the extra mile to make things right. Whether you're buying for an occasion, or just for yourself, we treat every order like it's our own. We pride ourselves on your delivery being 100% perfect.
Fast, Friendly Support
We pride ourselves on our customer support. All our enquiries are responded to within 1 business day during busy periods, but most likely within a couple of hours. Our team will do everything they can to help. Need help? Get in touch with us at help@guernseyflowersbypost.co.uk.
Making A Difference
We Plant Trees
We work with More Trees to plant a tree for every order we receive. Climate change is harming our planet, but if we all make a small change, we can make a big impact.
Age UK Donations
Last year, Age UK helped over 10 million people with some of the biggest issues in their lives. The work they do is extraordinary, helping others in need. We donate £1 for every order to Age UK.
Frequently Asked Questions
Adding a gift message, or selecting a delivery date
Once you've found your perfect flowers, please click the send these flowers button at the top of the screen. Select your addons, continue and enter your delivery date and gift message.
How will my order arrive?
Your order will be packaed up in a eco-friendly Guernsey Flowers box, with your gift note. If you ordered flowers, our flower care instructions will be included. We do not include any billing information in our deliveries.
How do I add a discount code?
This can be added on the last page of checkout when adding your payment details. If your code appears to be invalid, this usually means that our promotion has ended.
I'm having difficulty purchasing, what should I do?
How do I confirm my order?
Once you have checked out and paid for your order, we will instantly send you a confirmation email to confirm your order, delivery address, date and gift message. If anything needs changing, please contact us at help@guernseyflowersbypost.co.uk and we we'd be happy to help.
Can I order certain colours?
In some of our range, for example freesias, we offer a wide range of different colours. If you would like something more custom, please get in touch with us at help@guernseyflowersbypost.co.uk and our team will be able to create your perfect order.
Shipping Information
Delivering for occasions
We always aim to deliver on your selected date. On some occasions, we may deliver the day before just to be safe, as we understand flowers are purchased for special occasions.
Where do you deliver?
We deliver to the UK by DPD and Royal Mail. This includes all Mainland UK, as well as the channel Islands such as Jersey, Isle of Man, Sark, Scilly and Guernsey. We also ship to most parts of Northern Ireland. At this time, we do not ship internationally.
Got a question about shipping?
Get in touch with us at help@guernseyflowersbypost.co.uk if you have any questions at all regarding shipping. If you have any requests, we will do our best to meet your requirements.
1. Select your flowers
Browse and select a beautiful bunch of flowers that you would like and select your stem quantity if applicable.
2. Add extras
Select from our optional extras. We have a beautiful range of candles, chocolate and much more.
3. Date & message
Select the date you would like your flowers delivered, and add your own personal gift message.
4. Sit back & relax
Checkout and we will deliver them by post on the day you have selected to the address you provided.